Congratulation to Liping Huang for his "Ramanomics" published on Nature Communications.
Lab Media Interview
Team activities in Autumn 2022!
Congratulations on graduation!
Congratulations to Li Yang, Li Kang, Ye Ying, Cai Yu and Xie Ruifeng for their graduation. May they have health, happiness and outstanding success in all their careers!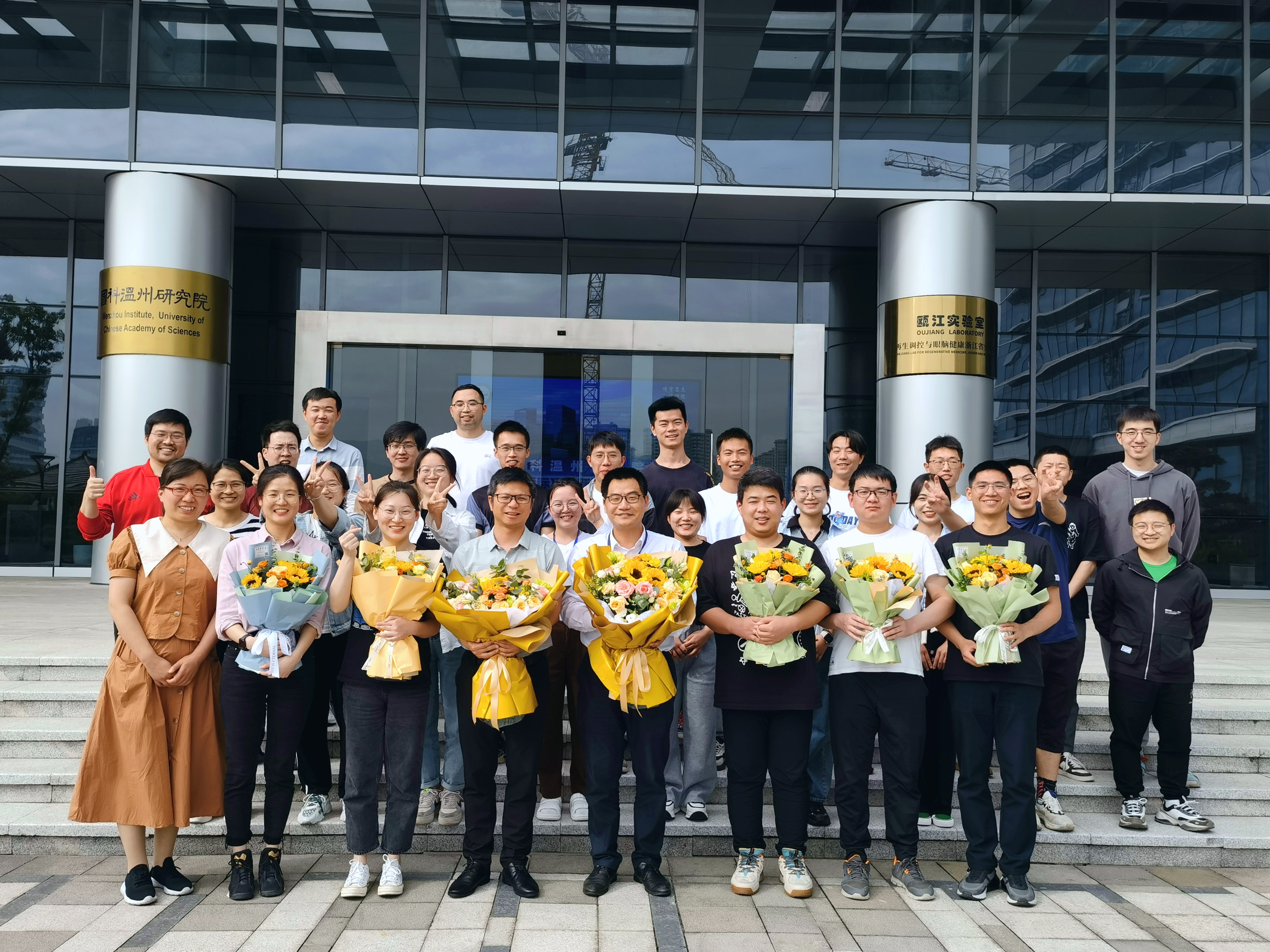 Congratulation to Liping Huang for his work on "breath analysis" published on ACS Sensors.
Congratulation to Dr. Danfeng Jiang for his work on "wearable lactate sensor" published on Biosensors and Bioelectronics.
Congratulation to Dr. Yuancai Ge for his "2D SERS substrate" published on Small.
Congratulation to Master student Ying Ye for the publication of "smart contact lens" on Advanced Science.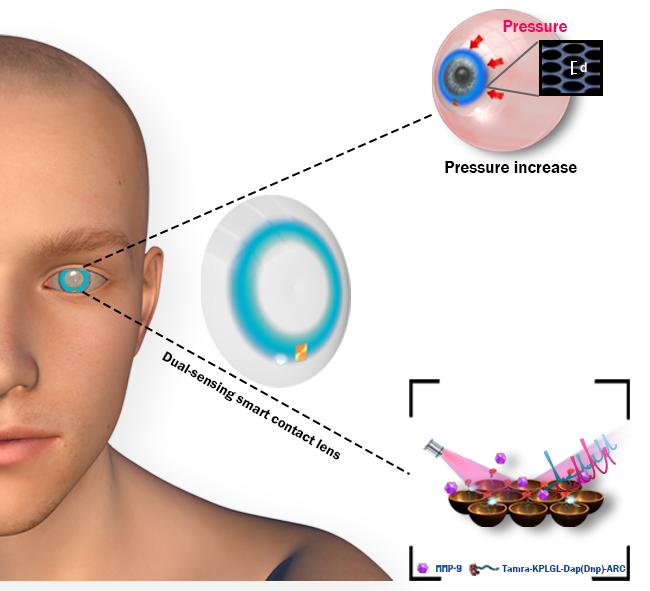 Farewell party and welcome to the new students.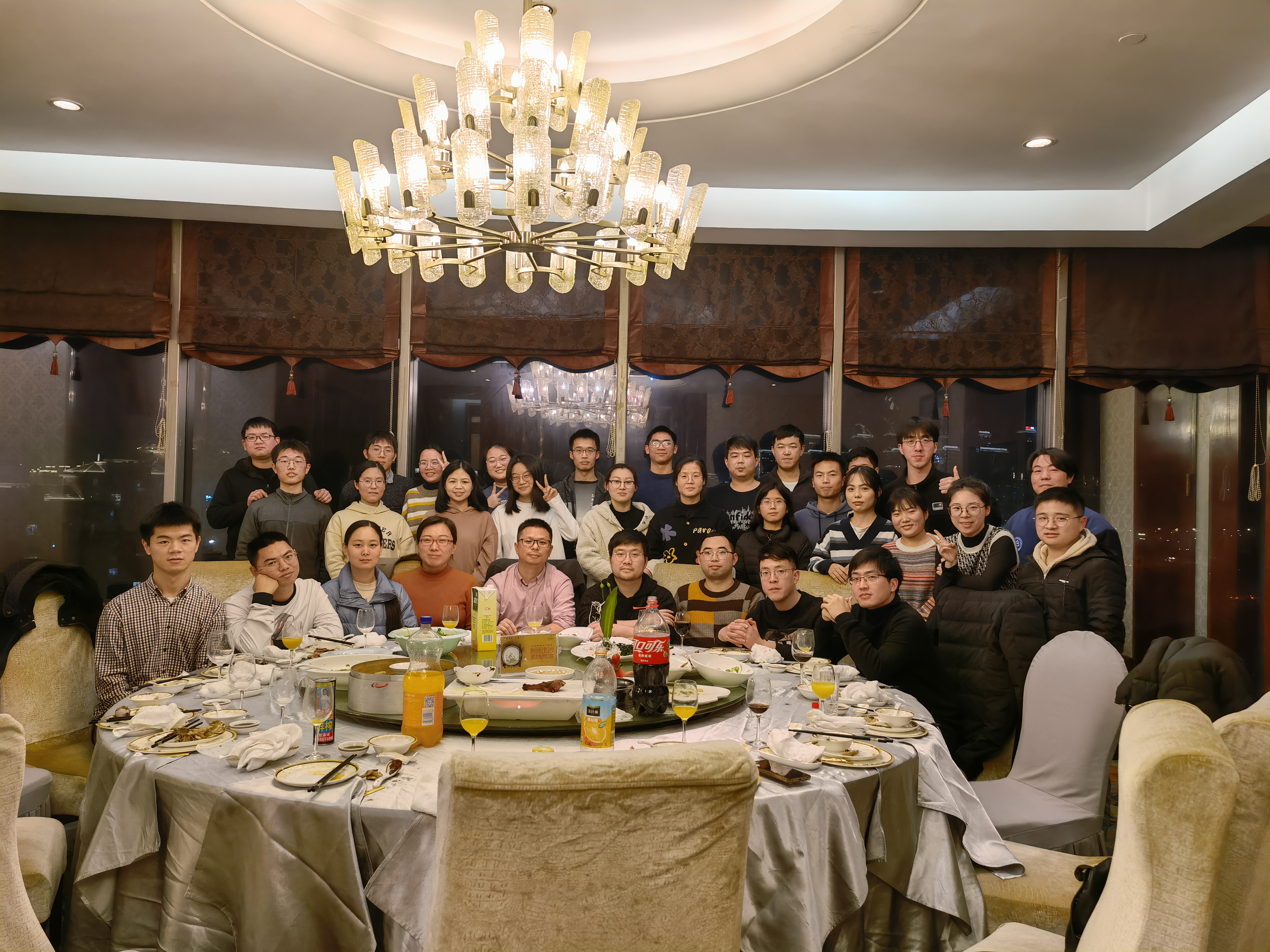 Congraduation to Dr. Shengying Cai for the publication of graphene fibers based noninvasive glucose detection on Nano Energy !
Congraduation to Master student Changshun Xu for the publication on Chemical Engineering Journal !
Wish all Merry Christmas and Happy New Year !
Congraduation to Master student Xueqian Ren for the publication on Analytical Chemistry, and selected as the journal cover !
Welcome New Students!
On June 29, 2021, Yunxiao Zhao, a newly recruited doctoral student of Y
i
Wang
research group, came to report. We hoped that Zhao could continue to work hard in the next doctoral career, and explore his potential and improve his self value in the new journey!
Academic Exchange——

Jianjun Wang
On June 3, 2021, Professor Jianjun Wang from Institute of chemistry, Chinese Academy of Sciences, invited by Yi Wang's research group, went to Wenzhou Institute, University of Chinese Academy of Sciences for academic exchange, mainly sharing a series of research work carried out by his research group inspired by ice control protein.
This paper reports the research group's experimental detection of random and instantaneous existence of nano critical ice nuclei; The molecular mechanism controlling ice crystal growth is revealed; And the design, preparation and application progress of new cryopreservation reagents without toxic molecules such as dimethyl sulfoxide.
Congratulations on graduation!
On June 1, 2021, three graduate students from Yi Wang's research group successfully passed the graduation defense. Graduation is not only an end to a period, also a commencement of a new period.May they have health, happiness and outstanding success in all their ventures. Hope the future will bring they further success and a whole world of happiness.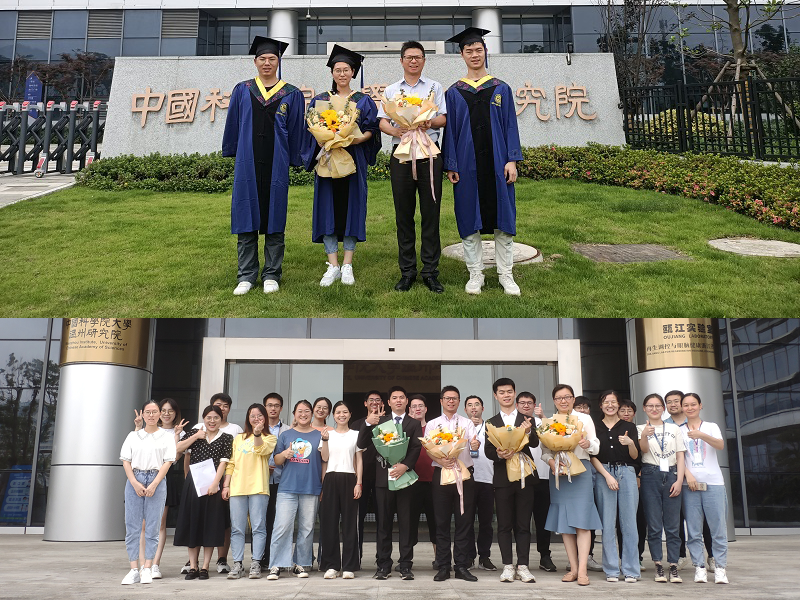 Academic Exchange —— Zhenyu Chu
On April 14, 2021, Yi
Wang
Lab invited
Professor
Zhenyu Chu from Nanjing
Tech
University to visit
our laboratory and have academic sharing.
The main content of the sharing is the separation and sensing membrane for blood dynamic analysis, and the relevant experience of product transformation of biosensor analysis instrument is also shared.
This academic exchange meeting has been widely concerned by the researchers and students of the research group. Postgraduates also have a heated discussion and in-depth exchange on such issues. I believe this meeting has brought us a lot of harvest and inspiration.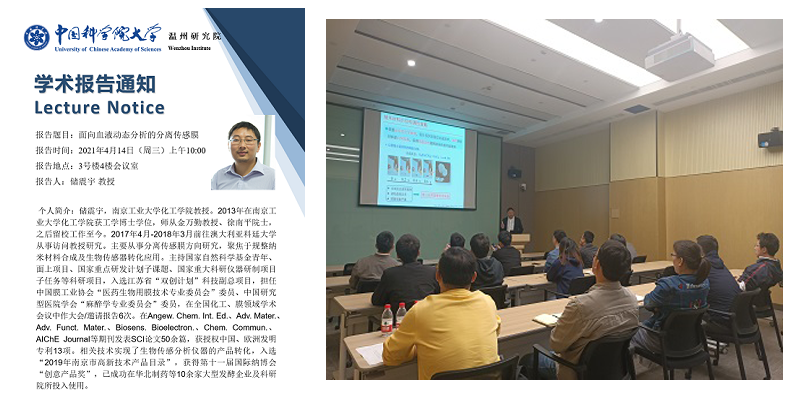 新医科新工科班"导学论坛"第四期活动顺利举办
On March 28, 2021, the fourth phase of "Guidance Forum" of new medical class and new engineering class was carried out smoothly. This activity mainly invited new medical students and new engineering students to visit Wenzhou Institute, University of Chinese Academy of Sciences, and held a learning lecture. Researcher Yi
Wang
shared the relevant content of wearable devices with students in the lecture. In addition, after the lecture, students took the opportunity to express their views on scientific research.
This activity enables students to study during the visit, helps them understand the latest scientific research direction, and also stimulates their interest in scientific research.

Happy New Year!
The new year of 2021 is coming, may your New Year be filled with special moment, warmth, peace and happiness, the joy of covered ones near, and wishing you a sparkling New Year and bright happy New Year! May the season bring much pleasure to you.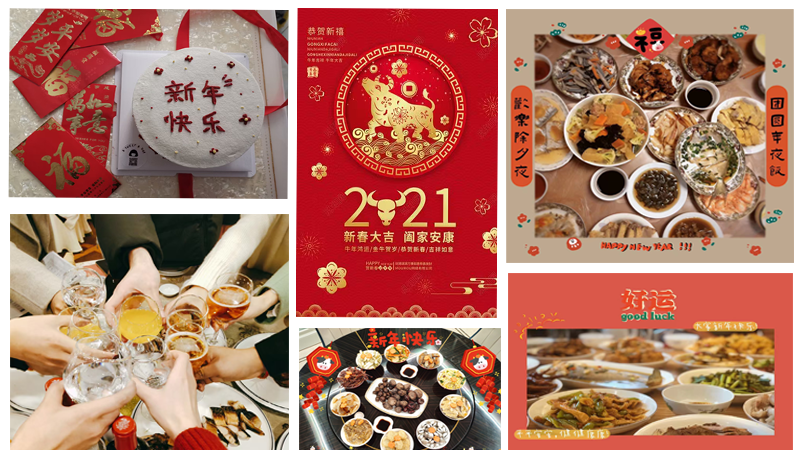 Annual Group Meeting Held Smoothly
On January 26, 2021, Yi Wang's research group held an annual group meeting. This meeting mainly focuses on the summary of 2020 and the expectation and planning for 2021. Each member of the team summarized their work and put forward the problems and difficulties encountered in the process of work. Other members of the team will spread their thinking, help them solve problems and put forward better countermeasures, which reflects the quality of team members to unite and overcome difficulties. After the meeting, the research group also prepared dessert and fruits for the members, so that they feel relax after the meeting, strengthen the communication samong the members.
The 2021 Biomedical Physics Cross Forum Was Successfully Held
The 2021 Biomedical Physics cross forum was successfully held in Wenzhou Institute, University of Chinese Academy of Sciences at 9 am on January 16. This forum focuses on clinical and scientific research, aiming to further promote interdisciplinary. The academicians, scholars and experts attending the meeting focused on the fields of biomaterials and medical applications, and carried out in-depth discussion combined with their own research, which greatly promoted the interdisciplinary exchange.
The academic exchange meeting held this time is the first plenary academic meeting since the establishment of the medical transformation center. It is an important measure to implement the joint medical transformation center. It has built a high-level, large-scale, multi-disciplinary academic exchange platform for scientific researchers and clinicians, and is helpful to promote the development of medical engineering interdisciplinary.
Under the background of the vigorous global technological revolution and industrial transformation, the Wenzhou Institute, University of Chinese Academy of Sciences will respond to the call of general secretary Jinping Xi, putting the upgrading of original innovation capability in a more prominent position, and achieving more breakthroughs from zero to one. Starting with this Biomedical Physics cross forum, we have been writing brilliant chapters in the fields of biomaterials and translational medicine.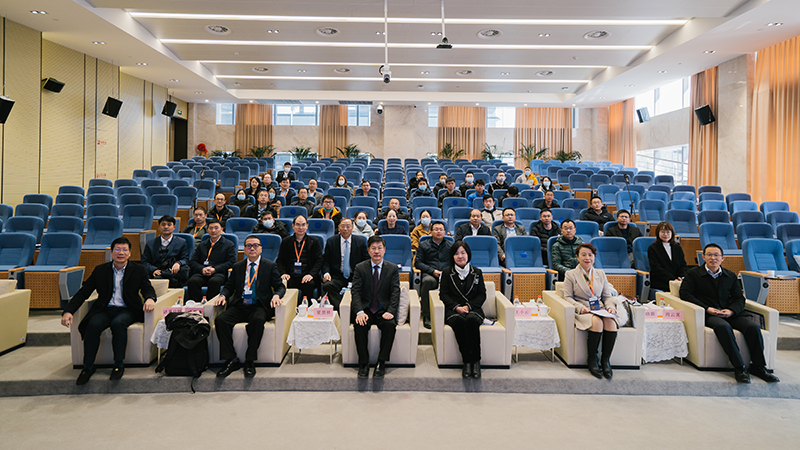 Academic Report -- Liping Huang
Liping Huang, the graduate student of Wang's research group, proposed several strategies based on Raman spectroscopy and artificial intelligence technology for cancer detection in different clinical samples, including the design of a surface-enhanced Raman scattering (SERS) exhaled gas detection sensor based on AgNPs@ZIF-67, which successfully distinguished between gastric cancer patients and healthy people by a non-invasive way; and systematically studying the Raman spectroscopy data of human liver tissue samples, developing and verifying a set of rapid, highly sensitive and label-free pathological diagnosis workflow of liver cancer, which realized the identification of cancerous tissues and adjacent non-tumor tissues, different types and stages of cancerous tissues, and obtaining subcellular-level Raman imaging of liver tissue slice; and realizing the diagnosis of glioma patients based on tissue homogenate and serum samples with high sensitivity SERS substrates.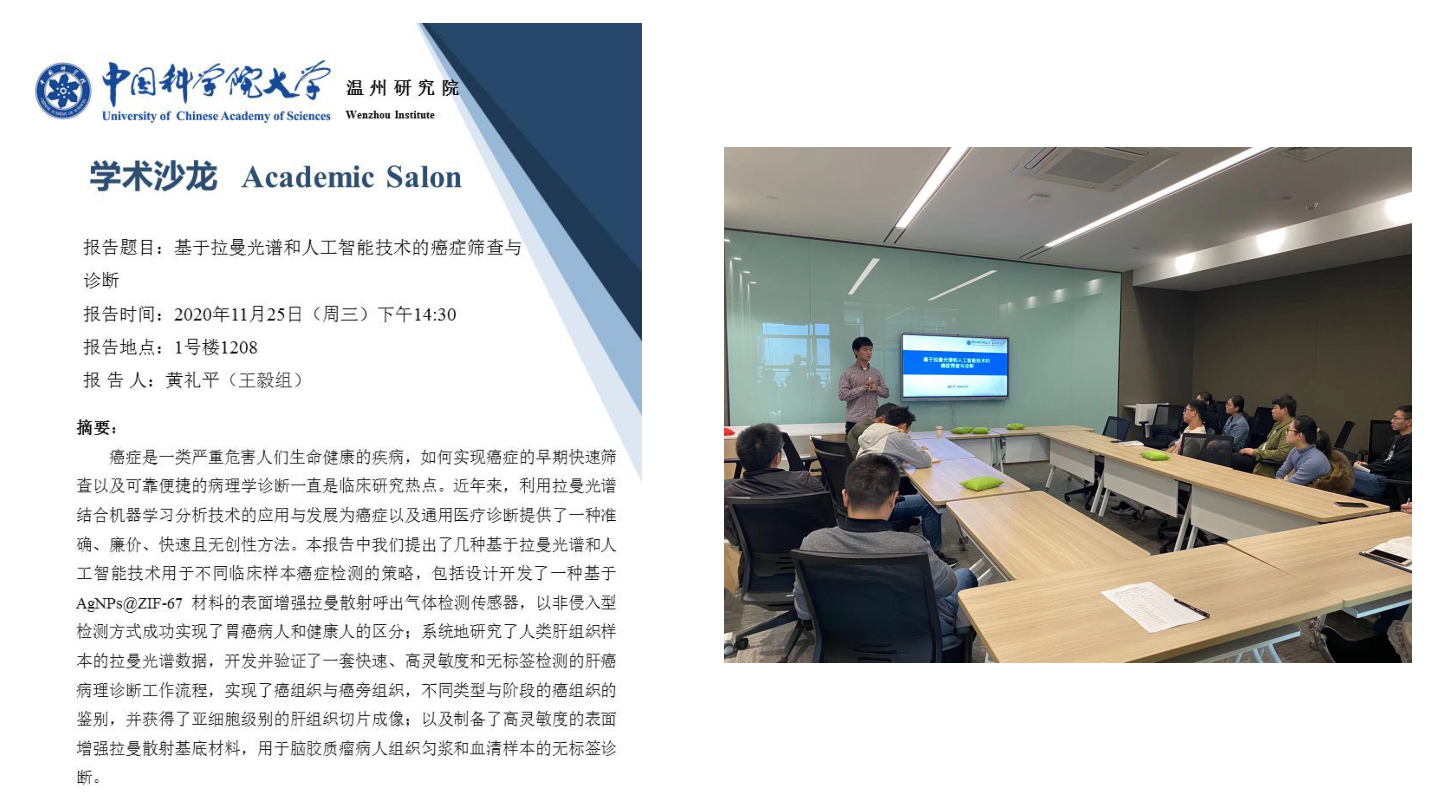 Academic Report -- Danfeng Jiang
Focus on the electrochemical sensing properties of transition metal compounds, assistant researcher Danfeng Jiang in Wang's group selected nickel, cobalt and iron as constituent elements to synthesize transitional metal compounds. Additionally, several preparation methods for modifying electrodes have been adopted to realize the regular morphology of nanomaterials to obtain excellent electrochemical behaviors.
Based on the nanostructural functional materials, we have constructed promising electrochemical sensors, showing the high performance in the detection of glucose, lactate, glutamate, alanine aminotransferase (ALT), catechol and hydroquinone.
Small Materials Have Great Uses: The Combination Of Organic Polypeptide And Inorganic Gold Nanoparticles
The team of Yi Wang from Wenzhou Medical University and Wenzhou Institute, University of Chinese Academy of Sciences, together with Nanyang Technological University in Singapore and Austrian Institute of Technology in Austria, published a review on the respective characteristics of polypeptide and gold nanoparticles. Through the reasonable design and screening of peptide molecules, it can form a stable and controllable system with gold nanoparticles, so as to meet different application requirements.
From the perspective of polypeptide functionality (polypeptide as substrate, binding molecule, etc.), the outstanding work of polypeptide gold hybrid nanomaterials in biosensor, cell imaging and other fields is summarized in detail: for example, using polypeptide molecule as substrate, colorimetric detection of various enzyme proteins (including hydrolytic enzymes, kinases, etc.) is carried out; using polypeptide molecules as binding molecules, different targets are detected and marked. This paper also summarizes the application of polypeptide gold hybrid nanomaterials in the field of antibacterial and antifouling. At the same time, the challenges and new opportunities in the future development of this kind of materials are prospected.